BDFA and the Olympic Flame
Mandy Ran with the Flame
We are pleased to Announce that Mandy Forbes, BDFA Council Member and Administrator in the Office, was selected as a torchbearer for the Olympic Flame and carried the torch through the grounds of Clayesmore School at Iwerne Minster on July 12th 2012.
Mandy said "It was one of the proudest moments of my life, an exhiliarating and exciting experience that I can't really explain, a rollercoaster of emotions. So many people waving and shouting as I carried the torch, I was so glad that my family and friends were there to watch me. It's a day that I will never forget."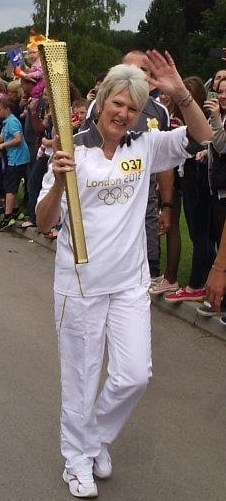 Mandy said about her selection: "I thought I was lucky to get in to the first round but then when they said I had made it through to the last 8000 from tens of thousands I was amazed, I feel ever so proud and very humbled to think that others think so highly of what I do. Click here to read Mandy's nomination.