Sunday Write Ups
HAYWARD SUNDAY LEAGUE ROUND UP
SUNDAY 26th APRIL 2015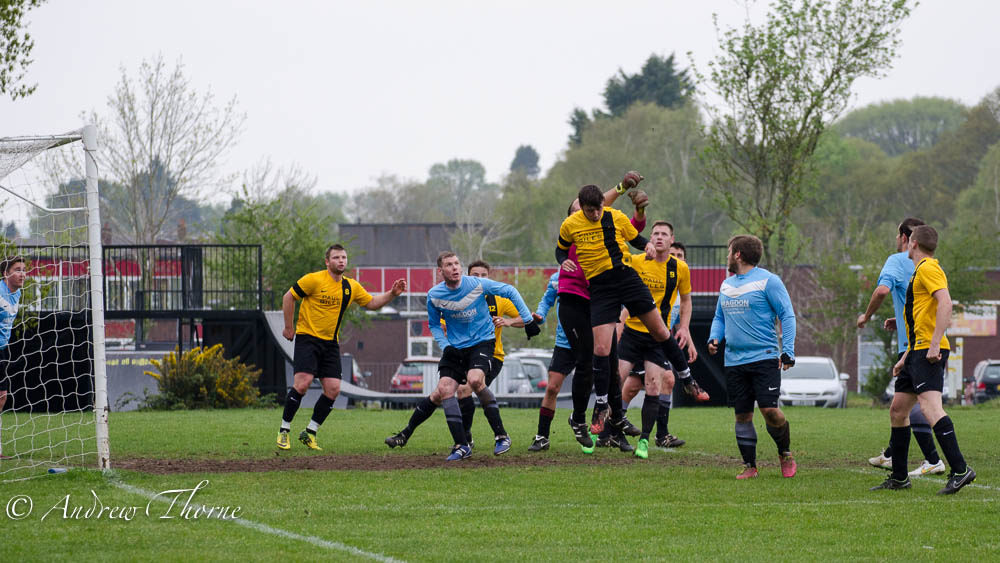 Action from Magdon Scaffolding v Victoria Cross
Victoria Cross extended their lead at the top of the HAYWARD SUNDAY PREMIER LEAGUE when they gave Magdon Scaffolding a 7-1 drubbing thanks to Sam Thompson's hat-trick and further goals from Shane Barney (2), Ashley Ayley, and James Pinder. Josh Thompson scored Magdon's consolation goal.
There is another piece of silverware on Victoria Cross' agenda next Sunday morning when they go to the County Ground, Hamworthy for the Dorset Sunday Senior Cup Final against Cobham Sports.
Cobham's confidence will be high after they replaced Patricks in the runners up spot after upending them 6-2 thanks to Joe Wood (2), Tom Hall, and a Joe Dawe hat-trick. Dan Cann scored both goals for Patricks who can no longer catch the leaders.
Mark Dykes, Kenny Strong, Jack Holland, and Simon Bereznicki gave unbeaten Abbey the upper hand 4-2 against UAB in DIVISION FOUR and they go into next Sunday's title decider with leaders Throop United needing to take all three points if they are to become champions. Ryan Mabey and Jesse Arnold were the UAB marksmen.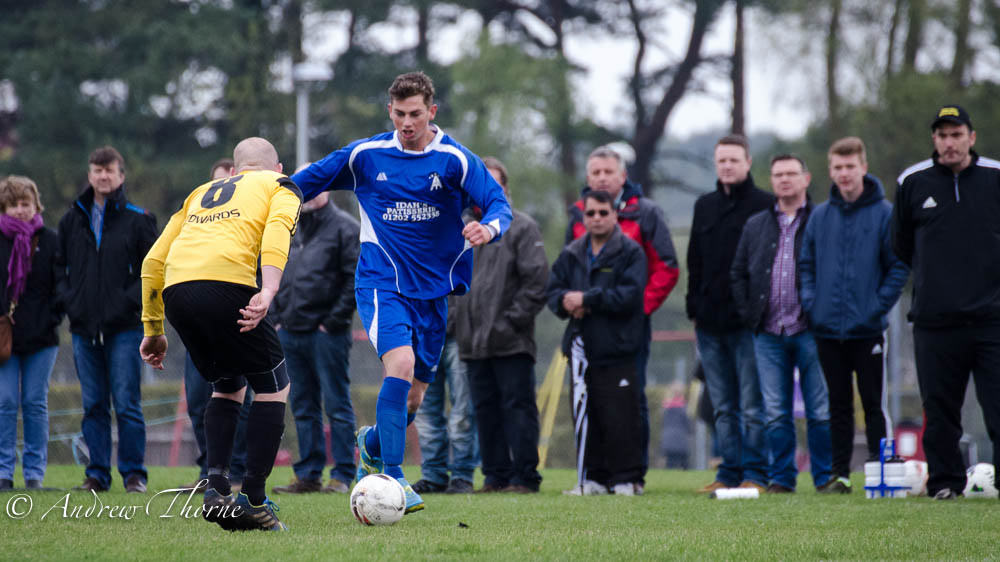 Action from Marden Edwards v Ferndown Wayfarers
With the M.A.Hart Nicholas Read Cup and the Dorset Sunday Junior Cup already in their possession, Ferndown Wayfarers completed an impressive treble when they swept DIVISION SEVEN championship rivals Marden Edwards aside 5-3 with Kyle Graham bagging a hat-trick and Mickey Finch and James Genge adding one each. Marden replied through Dan Molyneaux and a couple of goals from Lee Mitten.
AFC Fiveways warmed up for Thursday night's Hampshire Junior C Cup Final against Fawley FBL at Brockenhurst's Grigg Lane ground by walloping Pilot Reserves 10-1. Ben Hall led the way with a hat-trick while the other goals came from Mark Pimperton (2), Matt Small (2), Tom Streets, Lee Phillips, and Ian Marshall. Karl Chalkley scored Pilot's consolation goal.
HAMPSHIRE JUNIOR B CUP FINAL
Rushmere narrowly failed to bring the HAMPSHIRE JUNIOR B CUP back to Bournemouth when they were beaten 4-2 on penalties by Titchfield after the game finished all square 1-1.
Rushmere goalkeeper Nick Pounds made a number of good saves in the first half including a vital stop when Titchfield forward Liam Barnes was clean through with just the 'keeper to beat. Ryan Lewis put Titchfield in front after 68 minutes but Rushmere equalised with an excellent Dan Symes free kick. Rushmere pressed hard but were unable to force a winning goal.
Rushmere's Jordan Bruce was chosen for the Man of the Match award by Hampshire FA Cup Committee chairman John Spalding.
Rushmere :- Nick Pounds, Jack Walter, Paul Gregory, Alex McCarthy, Nick Rodgerson, Simon Wong, Jordan Bruce, Lloyd Joyce, Paul Blenman, Kevin Hennessey, Adam Nicholass. Subs Dan Symes, Paul Leabourne, Jamie Hodges, Robert Kearley, Stuart Mitchener.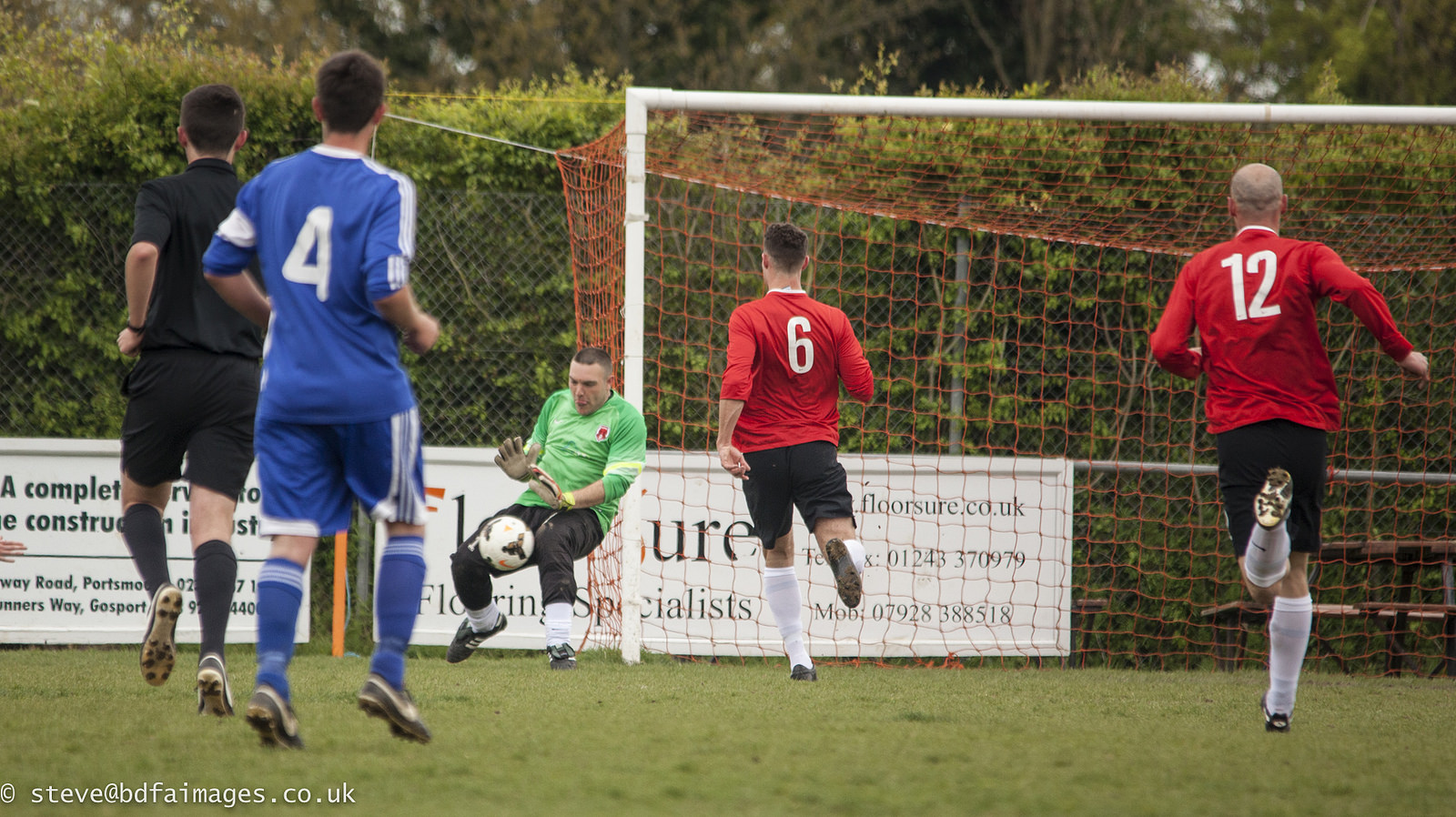 Action from Titchfield v Rushmere
M. A. HART ROBBINS CUP FINAL Sponsored by STAR SOCCER
Thursday 30th April 2015 at Hurn Bridge Kick Off 7:30 pm
PILOT v PRIORY QUAYS
The last of this season's Bournemouth FA Cup Finals takes place on Thursday night at Hurn Bridge (kick off 7.30pm) with Hayward Sunday Division Two champions Pilot hoping to surprise Premier League championship contenders Priory Quays in the M.A.Hart Robbins Cup Final sponsored by Star Soccer
Pilot from :- Lewis Punchard, Adam Costello, Michael Ferguson, Tomas Diaper, David Legg, Sam Bridgman, Richard Jackson, Jamie O'Hara, John Webb, George Webb, Josh Pickering, Scott Davidson, Adam Tong, Gary Finley, Kelvin Mizen, Randal Penketh.
Priory Quays from :- Elliott Broome, Stuart Ellis, Gary Hepple, Dan Brennan, Manny Ohameje, Ollie Peckham, Rafael Santos, Chris Burden, Kev Brennan, Max Crow, Aaron Atkinson, Simon Tao, Dan Whitthorn, Daniel Bartlett, Jimmy Crow.
Previous Write Up
Sunday 15th February 2015