Diary Dates 2016 -2017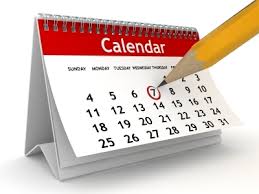 Please see here for all your important meeting dates, for Cup Final Dates and
presentation dates for the coming 2016/17 season.
Cup Draw
Thursday 21st July 2016 at Hurn Bridge Sports Club, 11am start.
BDFA Council Meetings BHFL Management Committee
Thursday 7th July 2016
Thursday 11th August 2016 Thursday 8th September 2016
Thursday 13th October 2016 Thursday 10th November 2016
Thursday 8th December 2016 Thursday 12th January 2017
Thursday 9th February 2016 (7.00pm) followed by BHFL Thursday 9th February 2017
Thursday 11th May 2017 (7.00pm) followed by BHFL Thursday 11th May 2017
M. A. HART CUP FINALS, M. A. Hart Stadium, Hurn Bridge Christchurch BH23 6DY 7.30pm KO
Nicholas Read Thursday 2nd March 2017
Hayward THursday 9th March 2017
Sunday Senior Thursday 16th March 2017
Page Croft Thursday 23rd March 2017
Lawrence A Brivati Thursday 30th March 2017
Pickford Thursday 6th April 2017
In-Excess Thursday 13th April 2017
Poole Bay Thursday 20th April 2017
Robbins Thursday 27th April 2017
Presentation Evenings
Monday 22nd May 2017
Tuesday 23rd May 2017
All above meetings to be held at Hurn Bridge Sports & Social Club, Hurn Bridge, Christchurch Dorset BH23 6DY. 7.30pm unless stated differently.
AGM
Tuesday 6th June 2017 at Kinson Community Centre.