HAYWARD SUNDAY LEAGUE ROUND UP - SUNDAY 9th SEPTEMBER 2018
There was late drama in the DIVISION ONE game at Broadway Park with Alex Mackenzie's 82nd minute equaliser for Talbot Rangers cancelling out Loch & Quay's first half stunner from Phil Midson.
Loch & Quay, who were reduced to ten men just before Mackenzie's strike, struck again though through substitute Chris Ballam to sink Rangers 2-1.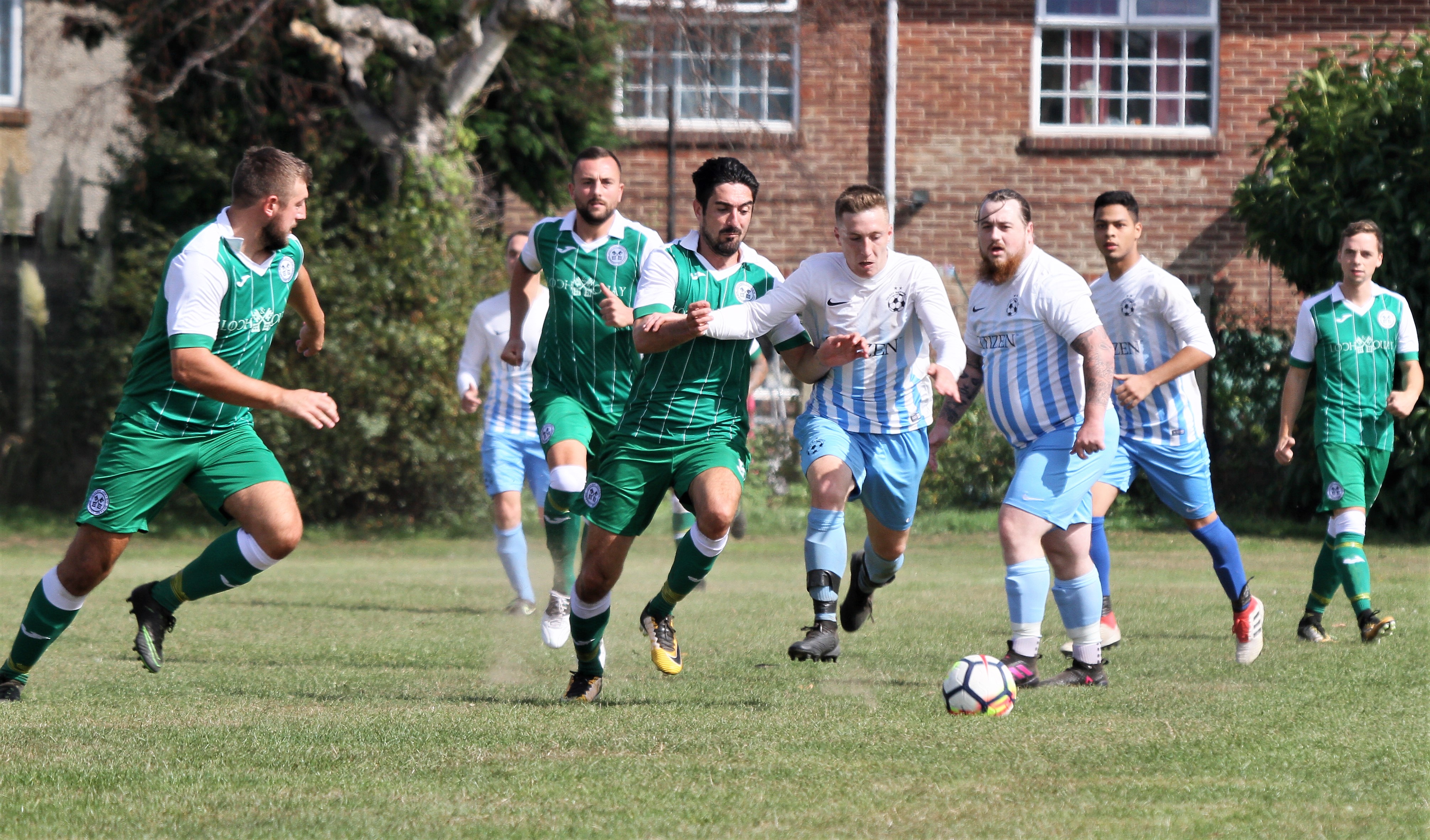 Alex Whitehouse took just 13 seconds to open the scoring for reigning champions East Christchurch SSC in their 4-0 victory over West Howe. Jamie Trimble bagged a brace for the champs with the other goal coming from Greg O'Mallo.
Nasim Meddah struck twice in Wakanda's 6-0 triumph over JP Morgan with Sami Makhloufi, Abdulaziz Alhayan, Kieran Shirley, and Jack Barton adding one each while AFC Burton and Abbey cancelled each other out in a 2-2 draw. Levi Ridealgh and Dan Seymour were the Burton marksmen with Simon Bereznicki and Kev Collins replying for the visitors.
Steve Flynn and Ollie Bolton gave Wiseguys a 2-0 success in an excellent game with Alderney Manor and they are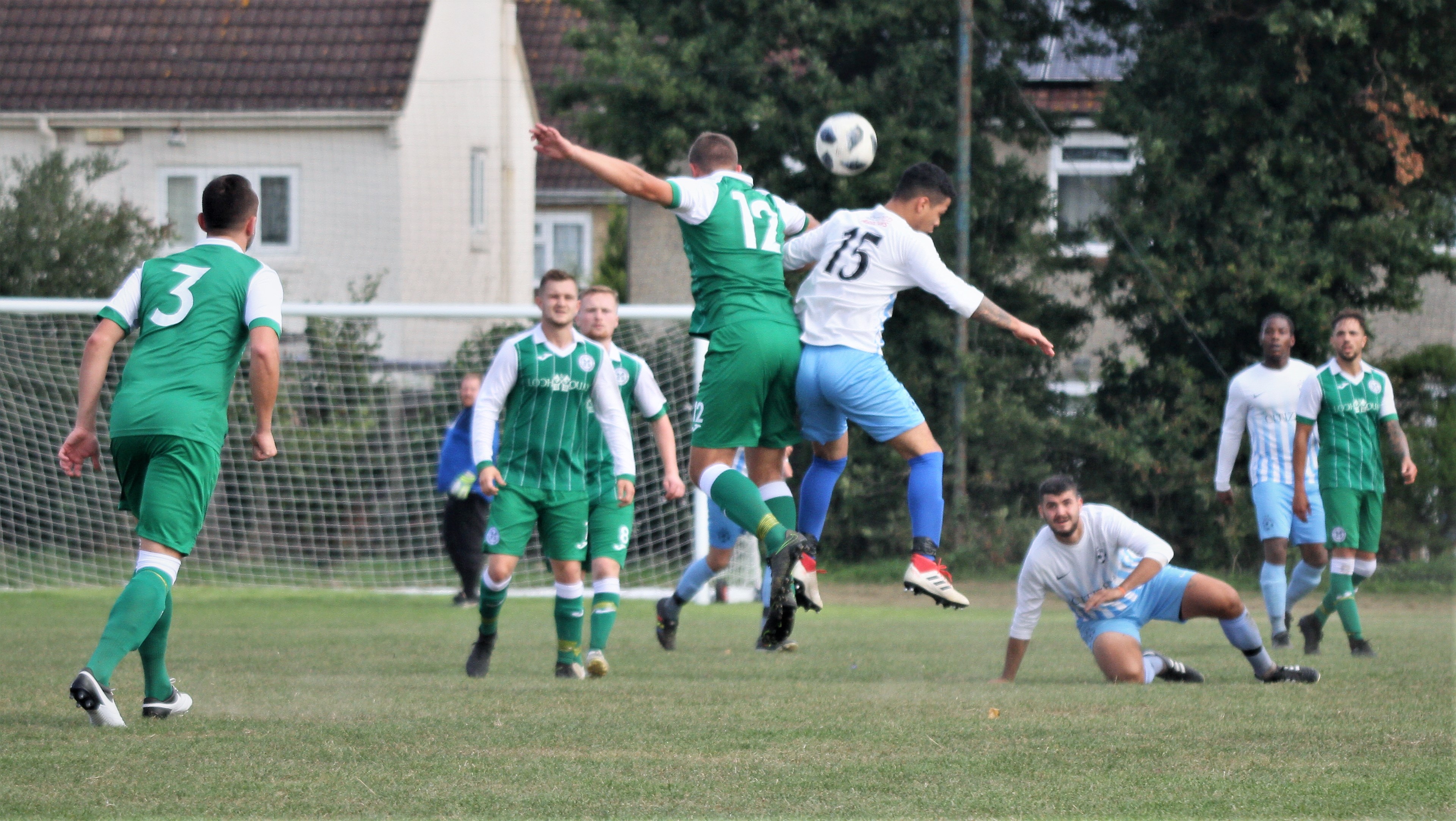 two points clear at the top of DIVISION TWO. Liam Holland was the five goal star when Newtown Athletic bounced back from last week's defeat at the hands of the leaders to crush NMO 12-1. Lee Matthews added a hat-trick and there were further goals from Kyle Graham (2), Ricky Powell, Tom Mann, Adam Janes, and Aaron Stacey while James Jose scored the NMO consolation goal. Dan Pine and Dan Felton netted for Bournemouth Sports Mercury but AFC Stourvale just got the better of them 3-2 thanks to goals from Ryan Johnson, Jack Robinson, and Stephen Lane. Martin Johnson struck for Parley Sports but substitute Kimble Fung earned Rushmere another 1-1 draw.
With only two games played, Vienna Suttoners are the only team in DIVISION THREE with maximum points after Brad Connell's four goal blast sank AFC Burton Reserves 5-1. James Bainton was the other Vienna scorer with Sam Nash replying for the visitors. Robbie Cole led the way with a hat-trick when Poole Wanderers gave MK Interiors a 7-0 coating with Sam Freeman, Sean Rowles-Smith, Ryan Musselwhite, and Scott Burbidge adding one each. Ash Williams, Dan Edwards, and Josh Carter were the Bearwood Broncos marksmen in their 3-0 victory over AFC Fiveways while AFC East Christchurch were 3-1 winners against Tower Park thanks to Charlie Barnes, Matt Mabey, and Ben Collie. Charlie King was the Tower Park scorer. Ali Frew and Shane Morgan netted for Richmond Park Rangers but Matt McCrow scored both goals to earn Bournemouth Athletic their second successive 2-2 draw.
Matt Warden's hat-trick proved decisive when West Mullen accounted for Branksome Liberal 4-2 in DIVISION FOUR. Brad Gale was the other West Mullen scorer with Liam Scadding and Matthew Bates replying for Liberal. Adam Clark and Danny Hayward netted for Scott V but Poole Borough shaded it 3-2 thanks to Conner Whitelock, Callum McColl, and Tony Callaghan. Jonny Martin, Kieron Mulvey, and Kieran Nicol were the KB Sports marksmen in their 3-1 win over Redhill Rangers. Alex Hawey settled the issue 1-0 for Portchester against Canford Rovers while Gary Earl and Martin Haskell ensured a 2-0 success for Morden against Vienna Suttoners Reserves.
James Smith rattled in four when Kirkfield United gave Parkstone Athletic a 7-1 drubbing in DIVISION FIVE. Josh Parker, Joshua Jones, and Juanjo Romero were the other Kirkfield scorers with Bryn Jones replying for Athletic.
Jamie Cooper hit Forest United for six when Upton Sociedad blitzed them 15-1 with Ben Lees (2), Adam Downey, Ryan Masson, Alex Airey, Rob Camp, Oscar Cluett, Callum McLeod, and Ashley Tizard completing the rout. Stephen Murphy notched a hat-trick in New Milton Borough's 5-0 tonking of AFC New Star with the other two goals coming from Ollie Whitehouse. Grange Athletic subdued Christchurch Starre 3-0 thanks to Dominik Wright and a couple of goals from Charlie Ryan while Andy Pugh scored all three goals in Parkstone's 3-1 success against Boscombe Celtic.
Tom Woolnough bagged a hat-trick with George Burgess, Tyler Gregory, and Lewis Worrall adding two each when Poole Rovers hammered Quayside 12-0 in DIVISION SIX. Sam Ridand and Karl Chalkley were also on target for rampant Rovers. Leon Samson led the way with a hat-trick when Woodville Wanderers walloped Boscombe Celtic Reserves 9-0 with the other goals coming via Aaron Towers (2), Phil Maidment, Steve Manns, Aiden Carter, and Matt Whitcher. Alan Stuart struck twice for Academy but Siemans had the upper hand 5-2 thanks to Callum Miskell (2), Mike Buck, Andy Cordial, and Rhys Jessop. Harry Yates scored all three goals in JP Morgan Reserves' 3-1 win over Canford Rovers Reserves and Longfleet were also 3-1 winners when Jacob Lawrence, Simon Rose and Elliot Whiting put paid to West Howe Reserves.
UNDER 18 DIVISION - ENDEAVOUR CHALLENGE CUP
In the opening games in the group stages of the ENDEAVOUR CHALLENGE CUP for the BHFL UNDER 18 DIVISION, Ringwood Town were 3-0 winners away to Lymington Town thanks to goals from Elliot Hemmings, Dylan Cooper, and Bradley Griffiths. Meanwhile Oliver Bird, Daniel Newman, and Thomas Jarvis netted for Hamworthy Recreation but Christchurch just got the better of them 4-3.
Previous Write Up's:
SEASON 2017-2018
M.A.Hart In-Excess Cup Final 9th May 2018
M.A.Hart Nicholas Read Cup Final - 30 April 2018
M.A.Hart Robbins Cup Final - 26 Apr 2018
M.A.Hart Sunday Senior Cup Final 17 apr 2018
Lawrence A.Brivati Cup Final 12 apr 2018
SEASON 2016-2017
M.A.Hart Robbins Cup Final - 27th April 2017
Hayward Cup Final - April 18th 2017
In-Excess Cup Final 13th April 2017
M.A.Hart Lawrence Brivati Cup Final 30 march 2017
Mark Hart Sunday Senior Cup Final
Nicholas Read Cup Final 2nd March 2017
SEASON 2015-2016
Sunday 25th October 2015 - No Write Up