M.A. HART IN-EXCESS CUP FINAL
Sponsored by: In-Excess
Thursday 19th April 2019 at Hurn Bridge, Christchurch
WISEGUYS 3 ALDERNEY MANOR 3 aet (Wiseguys won 4-2 on pens)
Wiseguys were 4-2 winners on penalties after Thursday night's M.A. Hart In-Excess Cup Final with Alderney Manor at Hurn Bridge finished 3-3 after extra time. The Sunday Division Two championship contenders had to recover a three goal deficit after Alderney's James King notched a fifteen minute hat-trick in a whirlwind start.
The first goal came just two minutes into the game after Toby Williams headed on Dale Hyne's through ball. Wiseguys goalkeeper Danny Saunders and Manor forward Scott Arnold collided going for the ball and James King was able to steer it into the net.
Alderney doubled their lead after 12 minutes when Sam Thompson won possession in the centre circle and played a clever ball over the top of the defence for James King to whip a superbly flighted effort over Danny Saunders from 20 yards out.
James King completed his hat-trick four minutes later when Alderney broke over the half way line with a neat exchange of passes involving Scott Arnold, King, and Sam Thompson resulting in King slotting the ball into the far corner of the net from 20 yards.
Wiseguys managed to pull one back just before the interval when Ollie Bolton attacked down the left and the ball came inside to James Morris. His attempted shot was adjudged to have struck Will Robinson's hand and Tyrone Carkeet calmly despatched the resultant penalty
It was a much more determined Wiseguys side who came out for the second half although King looked set to restore Alderney's three goal advantage in the 48th minute when he was put through on the left but Danny Saunders managed to get his effort round the post for a corner.
Alderney went close again a minute later when Aaron Carrivick drove the ball in from left but Liam Meldrum was unable to get it on target then Wiseguys went straight down the other end in the 50th minute and pulled anther goal back through James Morris. John Taylor brought the ball out of defence and slipped it wide to Adam Louka whose diagonal crossfield ball found Ollie Bolton. Bolton exchanged passes just outside the penalty area with Morris who slotted it clinically inside the far post.
James King laid the ball off for Scott Arnold to fire in a low shot in the 53rd minutes but Danny Saunders managed to divert it against the post and round for a corner.
James Morris took the ball into the Alderney penalty area in the 72nd minute and went down under a challenge from Dale Hyne. Wiseguys were awarded their second penalty of the game and Tyrone Carkeet made no mistake with the spot kick to put them on terms.
Morris managed to slip the ball past Alderney keeper Chris Johnson in stoppage time but it was going just wide of far post when it was cleared by a defender.
Extra time failed to produce a decisive goal although good work by James King In the last minute resulted in the ball being played back to Ryan Marshall whose effort just cleared the angle of post and bar.
Unfortunately for Alderney, two of their efforts in the penalty shoot out came back off the crossbar while Wiseguys were unerring with their four attempts. Inevitably it was Tyrone Carkeet who scored the decisive penalty.
Alderney Manor's James King was chosen for the Man of the match award by BHFL President Mike Fowler.
Wiseguys : Danny Saunders, JohnTaylor, James Morris (James Burgess 105mins),Tommy Freeman, Steve Haime (Joe Bennett 45 mins), Adam Louka, Ollie Bolton (Ollie Payne 116 mins), Tyrone Carkeet, Matt Biddle (Craig Poole100 mins), Richard Alderson, Teddy Hills.
Alderney Manor : Craig Johnson, Mark Seal, Aaron Carrivick, Dale Hyne, Tommy Davies Tom Smart 76 mins), James King, Will Robinson, Toby Williams (Scott Roberts 52 mins), Sam Thompson, Scott Arnold (Ryan Marshall 108 mins), Liam Meldrum.
Previous Winners:
In-Excess Cup Final, Thursday 9th May 2018
Thursday 9th May 2018 WEST HOWE 1 - 2 LOCH & QUAY AET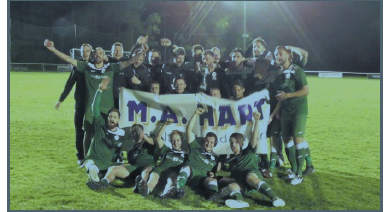 West Howe : Graham Warren, Sam Davis, Liam Whittle, Ryan Clarke, Alex Lee, Dan Dominey, Marston Wortley (Kieran Shirley 104 mins), Ellis George, Jordan Whittle (Tommy King 62 mins), Richie Whiting (Luke Scrimshaw 62 mins), Adam Louka.
Loch & Quay : Matt Harvey, Michael Barber, Chris Ballam (George Hatch 93 mins), Chris Dillon, James Keith (Chris Senior 75 mins), Ethan Maddocks, Rhys Jones, Charlie Heggan, River Smith, Pepe Smith (Harry Cooper 87 mins), Dan Hickford.
Match
Thursday 13th April at Hurn Bridge 2017 POOLE BOROUGH UAB 1-3 MARDEN EDWARDS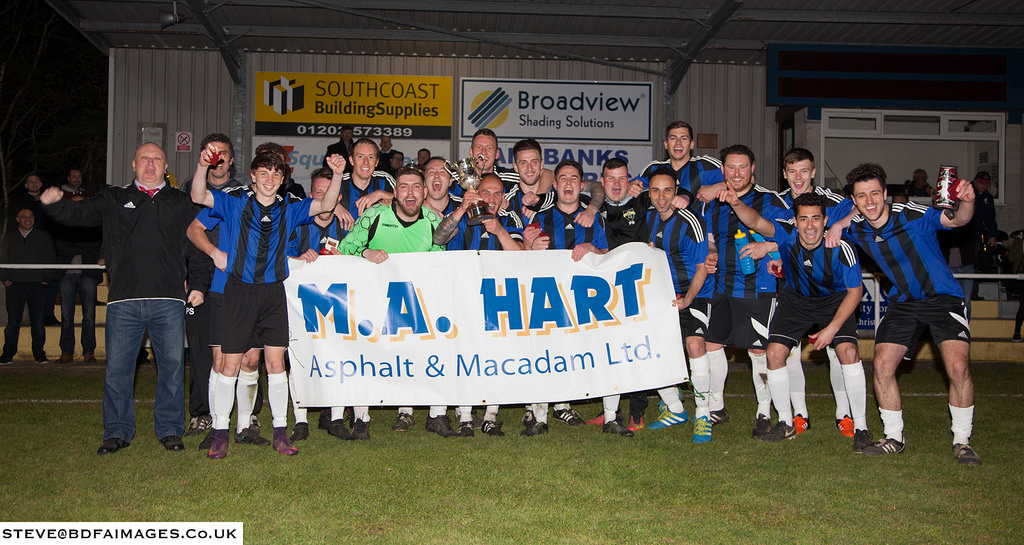 Poole Borough UAB :- Karl Jones, Luke Middlewick (Kieran Campbell 77 mins), Sam Burridge, Liam Meldrum, Tom Sonner (Joe Bennett 45 mins), Ryan Mabey, Lee Green, Adam Raven (Jordan Basing 45 mins), Sam Carter, Chris Squire, Kyle Spyers.
Marden Edwards :- Christian Kent, Alex Mackenzie, Fraser Reid, Lee Milton (Josh Webb 84 mins), Karl Milton, Niall Bolger-Wood, Leon Scott, Ryan Daly, Dan Molyneaux, Kyle Graham (Mohamed Al Rawas 90 mins), Ian Male (Jon Shaw 84 mins).
M.A.HART IN-EXCESS CUP FINAL Thursday 14th April 2016 at Hurn Bridge ABBEY 4 BRIT SPORTS 2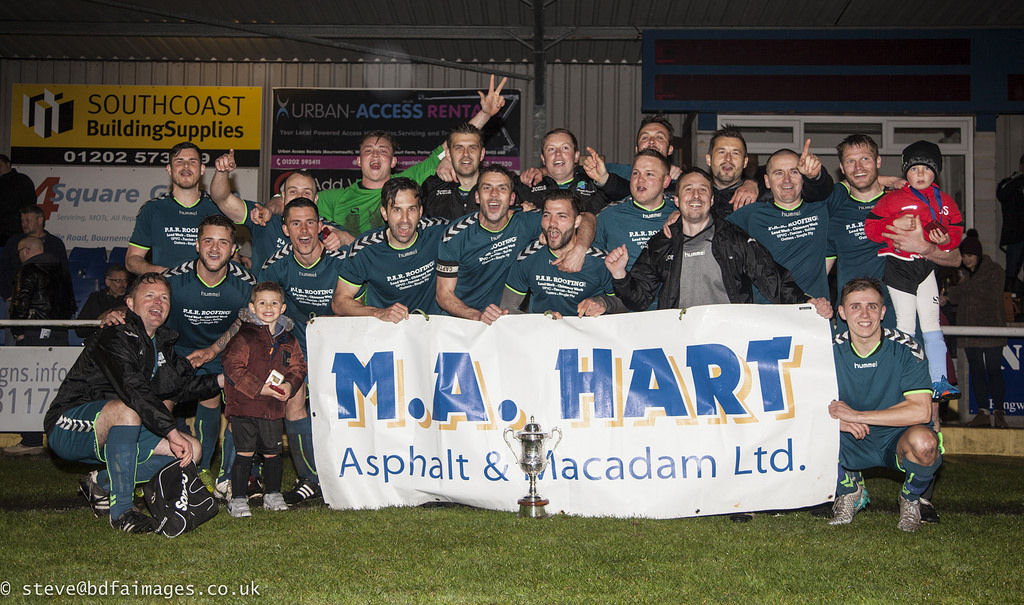 Thursday 16th April 2015 at M. A. Hart Stadium, Hurn Bridge KINSON CON 0 TALBOT RANGERS 1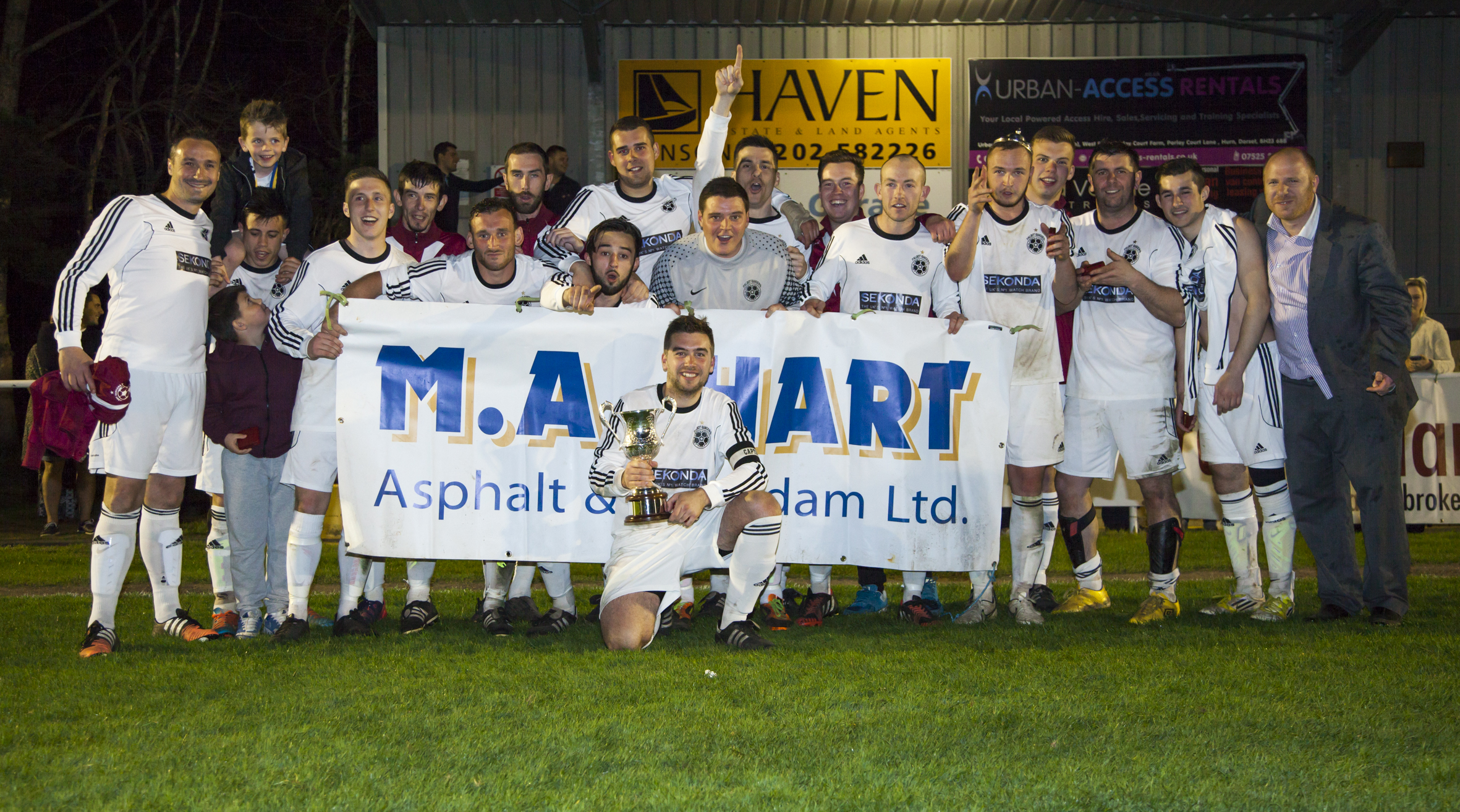 Leading marksman Mark Pudney slotted home a 67th minute penalty to give Talbot Rangers the verdict 1-0 against Hayward Sunday League Division Two rivals Kinson Con in Thursday night's M. A. HART IN-EXCESS CUP FINAL at Hurn Bridge.
Kinson goalkeeper Arron Wyeth kept his team in the game with a succession of excellent saves but, ironically, it was he who sent Bradley Aspin tumbling for the penalty that was to decide the issue.
Rangers 'keeper Owen Farnes had to be off his line quickly to deny Trevor Fisher in the 17th minute after John Watt had caught Jason Lock in possession.
Arron Wyeth did well to block a low drive at the other end from Brad Aspin who whipped the rebound just over the bar from close range.
Rangers were at full stretch defending a Kinson free kick while, as the first half came to a close, Mark Pudney and Mark Rourke combined brilliantly to create an opportunity at the other end for Brad Aspin who was, once again, thwarted by Arron Wyeth.
Pudney put Rourke through at the start of the second half but Wyeth and his defenders reacted quickly to snuff out the danger.
Wyeth produced a magnificent save in the 57th minute to turn Brad Aspin's close range header round the post and, after Rangers had taken the lead with their penalty ten minutes later, Wyeth did well to divert a fierce Marcus Cullen effort onto the crossbar and behind for a corner.
Kinson skipper Jamie Lever's shot from outside the box was narrowly wide in the 84th minute while, at the other end, Wyeth pulled off another excellent save.
Kinson Con goalkeeper Arron Wyeth was chosen for the Man of the Match award by BDFA President Mike Fowler.
Kinson Con :- Arron Wyeth, Ryan Turner (Ryan Marshall 45 mins), Jason Lock, Wayne Fripp, Ben Asperling, Luke Evans (Nick Bird 45 mins), Callum Doe, John Watt, Trevor Fisher, Jordyn Johnston (Keam Ashton 63 mins), Jamie Lever.
Talbot Rangers :- Owen Farnes, Nick Kokolaras (Craig Snehota 78 mins), John Taylor, Sam Phillips, Mark Pudney, Bradley Aspin, Matty Ings, Mark Rourke (Kieron Arif 73 mins), Marcus Cullen, Josh Goncalves, Jamie Morgan.
Click here for more pictures, of the M. A. Hart In-Excess Cup Final, from Steve Harris
Click here for the South Coast Journalism video highlights of the M. A. Hart In-Excess Cup Final