M.A.HART LAWRENCE A BRIVATI CUP
Sponsor invited
M.A. HART LAWRENCE A BRIVATI CUP FINAL
Tuesday 16th April 2019 at Hurn Bridge, Christchurch
VIENNA SUTTONERS RESERVES 6 PORTCHESTER 1
Vienna Suttoners Reserves were convincing 6-1 winners against Sunday Division Four championship rivals Portchester in Thursday night's M.A. Hart Lawrence A Brivati Cup Final at Hurn Bridge.
This was Vienna's 15th successive victory in all competitions in an impressive run stretching back to the beginning of October
Portchester forced a couple of corners in the opening exchanges but an early indication of what was to come occurred after ten minutes when Vienna' Sam Purdy burst through with just the 'keeper to beat. Purdy's shot was destined for the bottom corner of the net until Portchester goalkeeper Jason Fry made a superb save, diving to turn the ball round the post.
Sam Purdy was a constant menace to the Portchester defence, having a shot charged down by a Portchester defender and then forcing a good diving save from Jason Fry with his follow up effort.
The Portchester goalkeeper had the crowd gasping when he pulled off two stunning reflex saves in the 22nd minute and just two minutes later Fry rescued Portchester again with an incredible save to keep out Liam Riding's header from point blank range.
A Purdy effort from the left across the face of the goal in the 25th minute was narrowly wide of the far post but Fry was finally beaten in the 34th minute when Jesse Hodgson met David Price's excellent cross with powerful header.
Vienna doubled their lead three minutes later when Luke Scrimshaw squeezed a low shot into the net with goalkeeper Fry unsighted.
Jesse Hodgson was through again five minutes before the interval to fire a shot into the side netting and the Vienna striker was involved in a clever exchange of passes with Purdy as the first half came to a close.
Portchester's hopes of a revival were extinguished in the opening three minutes of the second half. Purdy weaved his magic down the right in the 47th minute and pulled a perfect ball back for Brad Aspin to turn it into the net.
Then, a minute later, Sam Purdy ran through and, from the edge of the box, whipped a stunning effort over Fry's shoulder and inside the far post.
A defensive slip on the hour let in Purdy again but his lob towards the top corner was tipped over the bar by Fry.
David Price won possession in midfield and came forward to whip a dangerous ball across the face of the Portchester goal while at the other end Jason Cliffe made a great save, getting down quickly to a low shot that came through a crowd of players
Sam Purdy struck again in the 84th minute, racing through from the half way line to take the ball round Jason Fry and slotted it between the two covering defenders in the line.
Portchester scored a consolation goal two minutes later when Alex Hawey went down the right and crossed for Stuart Marshall to drill the ball past Jason Cliffe.
Vienna had the final word though with the last kick of the match when Jesse Hodgson burst through to tuck the ball into the corner of the net.
Vienna Suttoners' Sam Purdy was chosen for the Man of the Match award by BHFL President Mike Fowler.
Vienna Suttoners Reserves : Jason Cliffe, Aaron Newsham (Kyle John-Clement 85 mins), Brett Timlin (Roger Gosby 85 mins), Luke Ayrton (Josh Fryer 70 mins), Dean White, David Price, Brad Aspin, Jesse Hodgson, Luke Scrimshaw (Chris Hack 54 mins), Sam Purdy, Liam Riding (James Sheppard 60 mins)
Portchester : Jason Fry, Shane Fox, James Jordan (Chris Rigby 80 mins), Karl Painter (Joaquim Lourerio 56 mins), Travis Abbott (Luke Bealey 45 mins), Matt Francis, Kingsley White, Elliott Pike (Stuart Marshall 45 mins), Alex Hawey, Will Thomas, Dan Johnson (Carl Charman 65 mins).
Previous Winners
M.A.HART LAWRENCE A BRIVATI CUP FINAL Thursday 12th April 2018 NEWTOWN ATHLETIC 1-5 TOWER PARK
at Hurn Bridge, Christchurch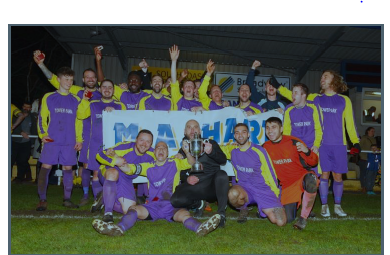 Newtown Athletic : Lee Devlin, Ross Bartlett (Ryan Mabey 81 mins), Lee Edwardson (Lewis Tapley 65 mins), Luke Powell, Adam Janes, Matt Farley, Dale Walters, Tom Mann (Charlie Ruck 56 mins), Liam Holland, Ricky Powell, Ben Franklin
Tower Park : Mark Dancer, Carl Phillips (Ryan Turner 38 mins), Kris Wilkins, Ryan Malcolm, Connor Picken, Lewis Cannings, Matthew Wilson, Dave Niven, Ross Dominey (Jesse Nash 92 mins), John Bailey, Webster Muringayi (Chay Lothian 70 mins)
M.A.HART LAWRENCE A BRIVATI CUP FINAL Thursday 30th March 2017 WEST MULLEN 1-5 WEST HOWE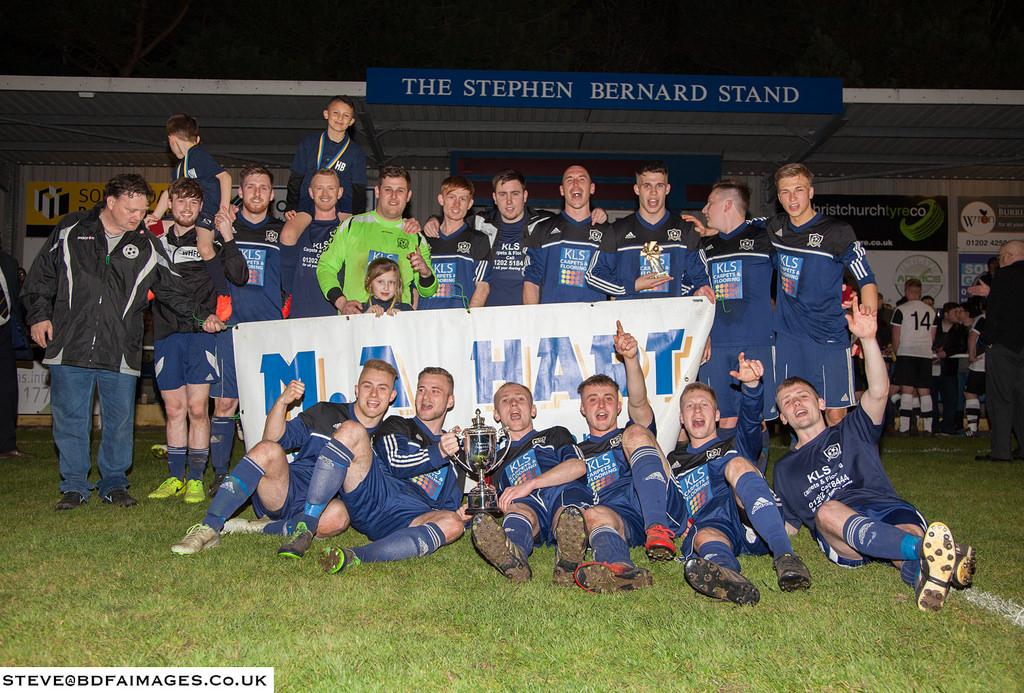 West Mullen :- Michael Freeman, Dan Warrilow (Callum Clayton 74 mins), Chris Baldry, Mark Lorains (Jack Dunne 63 mins), Joe Walden, Matt Warden, Jamie Robinson, Brad Gale, Mitch Hack, Cassius Newton, Paul Bedford (Chris Ashford 83 mins)
West Howe :- Sonny Turner, Kieron Shirley, Tommy King, Alex Lee, Ryan Clarke, Sam Davis, Gareth Else (Jordan Whittle 81 mins), Ellis George, Kyle Leach, Ritchie Whiting (Graham Warren 72 mins), Liam Whittle (Marston Wortley 65 mins)
2016 BOURNEMOUTH ELECTRIC A 3 JP MORGAN 3 aet JP Morgan won 5-4 on penalties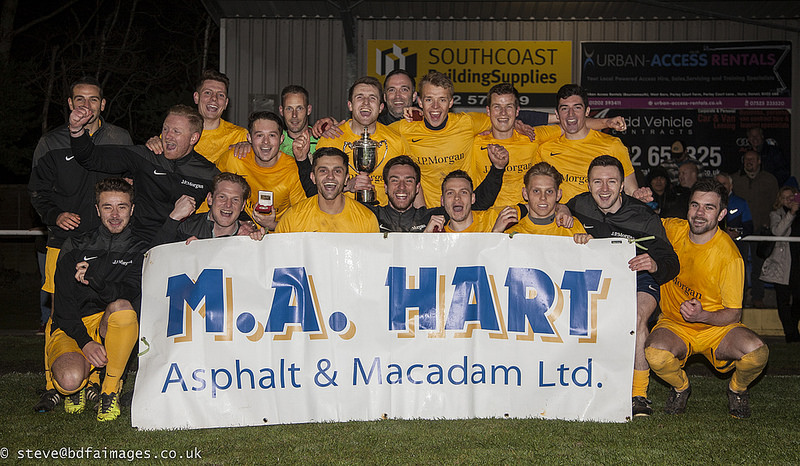 JP Morgan : _ Nigel Dunn, Gerard O'Mullan, Ben Duburguet-Gard, Freddie Porter (Glebs Kiselovs 40 mins), James Hardiman, Josh Hartley (Ryan Roberts 65 mins), Fergal McCloskey (Greg Jones 57 mins), Deon Brophy, Matt Lewis, Will Scudder, Craig Whittaker.
M. A. HART LAWRENCE A BRIVATI CUP FINAL 2015
Sponsored by SHOULDER OF MUTTON Thursday 2nd April 2015 at the M.A.Hart Stadium, Hurn Bridge
ABBEY 1 WEST HOWE 2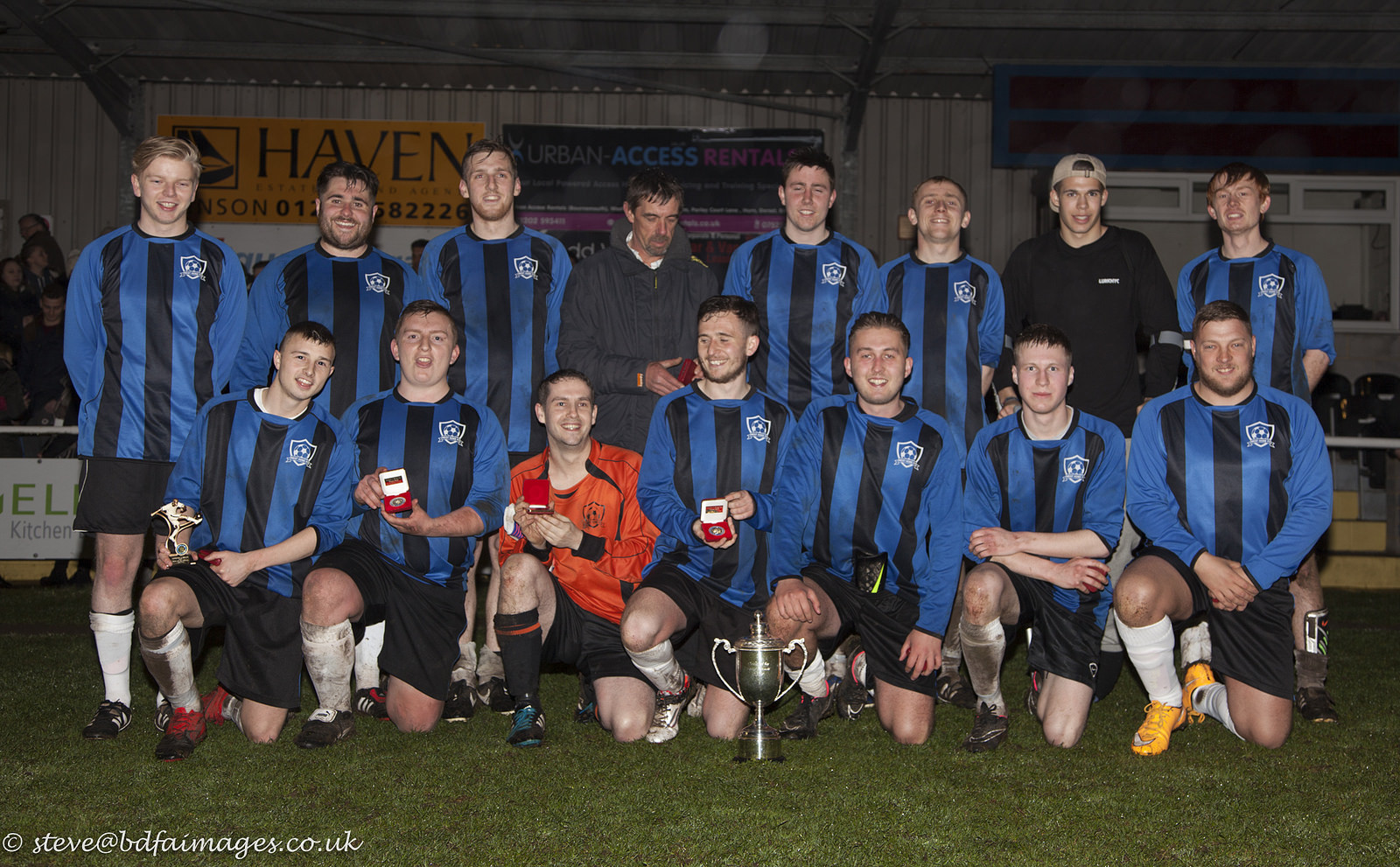 West Howe had a night to remember when they came from a goal down against unbeaten Hayward Sunday Division Four title contenders Abbey to emerge 2-1 winners in Thursday night's M.A.Hart Lawrence A Brivati Cup Final at Hurn Bridge.
The West Howe youngsters shrugged off the disappointment of seeing their Division Five championship hopes evaporate in recent weeks to produce a magnificent performance against a formidable Abbey side.
Abbey had the best of the early chances though and they eventually took the lead on the half hour when a header struck the West Howe crossbar and their big central defender Mark Dykes was perfectly placed to head home the rebound from close range.
Jordan Whittle was proving a handful for the Abbey defence and the diminutive front man put West Howe on terms nine minutes later when raced onto Gareth Else's superb through ball to slot it past the advancing goalkeeper.
An entertaining first half was brought to a close with Abbey's leading marksman Gary Shears whipping a shot on the turn across the face of the West Howe goal.
Kev Collins went close for Abbey at the start of the second half while Whittle and Ellis George were combining well for West Howe.
West Howe scored what was to be the winning goal after 58 minutes when midfield playmaker Ellis George skipped past two defenders to drill the ball into the far corner of the net.
Abbey came close to equalising in the 77th minute when substitute Simon Bereznicki drove a shot against the crossbar while Tommy King's looping header struck the top of the crossbar at the other end.
West Howe 's lively front runner Jordan Whittle was chosen for the Man of the Match award by BFA President Mike Fowler.
Abbey :- Luke Dawe, Robbie Cullen, Chris Foster, Gary Vincent, Mark Dykes, John Bates, Jack Holland (Lewis Crumpler 67 mins), Tim Porter (Simon Bereznicki 74 mins), Gary Shears, Kevin Collins, Marc Vincent
West Howe :- Simon Kefford, Aaron Redmond, Ryan Cole, Ellis George, Jordan Whittle, Ritchie Whiting, Daniel Dominey, Gareth Else, Zak Cole, Tommy King. Alex Lee.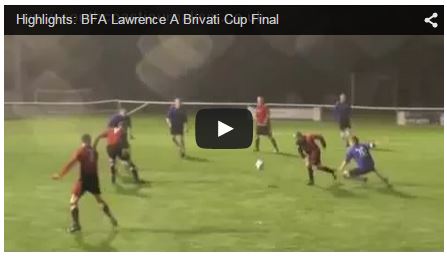 Click Here for the Link to South Coast Journalisms Video of the Match
Click Here for more Photos from Steve Harris