Sponsored by RAY MILLARD INSURANCE

FORDINGBRIDGE TURKS RESERVES 1-4 MUDEFORD MENS CLUB
M. A. HART PAGE CROFT CUP FINAL
Thursday 23rd March 2017 at Hurn Bridge
Hayward Saturday Division Two title favourites Mudeford Mens Club lifted the M.A.HART PAGE CROFT CUP following their convincing 4-1 victory over Fordingbridge Turks Reserves on Thursday night at Hurn Bridge.
Mudeford had an early chance when Jack Hancock broke away to clip the ball just over the bar and Liam Welton cut inside a minute later but his shot was blocked by a Turks defender. Fordingbridge goalkeeper Steve Canning had to be alert to tip the resultant corner over the bar.
Welton looked to have been tripped inside the penalty area by Stuart Cromie after ten minutes but, luckily for Fordingbridge, Mudeford were only awarded a free kick outside the box which was blocked by the defensive wall.
Mudeford continued to threaten with Craig Armstong's diagonal cross from the left finding Welton beyond the far post and his first time effort was only just off target.
Jack Hancock was tripped by Stuart Cromie inside the penalty area in the 16 th minute and there was no escape for Turks this time with referee Pasy Grillo immediately pointing to the penalty spot. Mudeford left back Josh Thayner stepped up to slot the penalty kick neatly into the corner of the net.
Mudeford had opportunities to increase their lead with Welton and Alex Spencer both clean through with just the 'keeper to beat. Welton sliced his shot high and wide while Spencer's effort flashed past the post.
At the other end, John Bailey put a well flighted free kick into the danger area on the half hour but Turks were unable to capitalise. But, when Kevin Ainsworth-Slapp hauled Mike Lathe down in the 42nd minute, Bailey had another opportunity to deliver a free kick into the Mudeford penalty area. This time it paid dividends for Turks with Francesc Bosch-Mira getting to the ball fractionally ahead of Mudeford 'keeper Adam Cutler to score the equaliser.
A Kevin Ainsworth-Slapp volley was just wide of the Fordingbridge goal ten minutes into second half then Turks 'keeper Stuart Canning produced an excellent diving save to parry Jack Hancock's shot in the 57th minute. Unfortunately for Fordingbridge, the rebound fell kindly for Liam Welton who drilled it neatly inside the far post to restore Mudeford's lead.
Fordingbridge suffered another setback six minutes later when Jack Hancock put Alex Spencer through and, when the Mudeford striker was brought down by the Turks 'keeper, penalty taker Josh Thayner was again called upon and he converted the spot kick with consummate ease.
Turks responded with John Bailey creating room to get in a shot from the edge of the box which went wide but Mudeford were relentless and only a series of excellent saves from the Fordingbridge goalkeeper kept them at bay.
Canning was at full stretch to turn Welton's shot away and he quickly recovered to pounce on Spencer's follow up effort.
Hancock then had a shot well saved by Canning in 85th minute and the Turks 'keeper made another fine save when he dived full length to stop Craig Armstrong's long range effort.
Then, in stoppage time, Hancock played a clever ball through to Craig Armstrong and the Mudeford skipper gave the 'keeper no chance with a clinical strike into the far corner of the net.
Mudeford Mens Club's experienced defender James Taylor was chosen for the Man of the Match award by Hayward League President Mike Fowler.
Fordingbridge Turks Res :- Steven Canning, Michael Andrews, Alex Hawey, Robin Tennant (Kris Wilkins 72 mins), Paul Roberts, Calum Fraser, Francesc Bosch-Mira (Mike McMurray 66 mins), Mike Lathe, Carl Charman, John Bailey, Stuart Cromie (Ben Jury 60 mins).
Mudeford Mens Club :- Adam Cutler, Jack Herridge, Josh Thayner, Kevin Ainsworth-Slapp (Tom Dear 84 mins), Jordan Fillery, James Taylor, Liam Welton (Ally Rider 90 mins), Craig Armstrong, Alex Spencer, Jack Hancock, Travis Bussell (Sam Wiggins 72 mins).
Page Croft Cup Final - 23rd March 2017
PREVIOUS WINNERS
M. A. HART PAGE CROFT CUP FINAL 2015
Sponsored by Ray Millard Insurance
Thursday 24th March 2016 at Hurn Bridge
ALLENDALE RESERVES 0
BOURNEMOUTH ELECTRIC RESERVES 3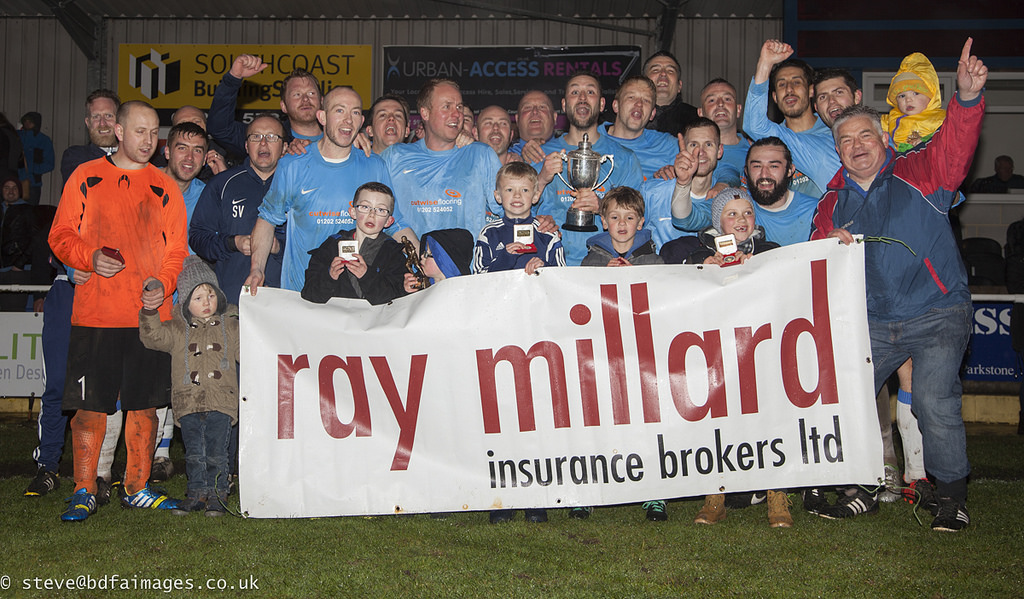 Bournemouth Electric Reserves : Dan Watton, Keith Owens (Craig Poole 71 mins), Neil Stone, Sam Phillips, Jon Fuller, David Harding, Mark Pudney, Ramez Vafa, Liam McGlynn (Kevin Ainsworth-Slapp 78 mins), Matty ings (Micky Rideout 83 mins), Paul Conroy
Thursday 26th March 2014 at M. A. Hart Stadium, Hurn Bridge
BISTERNE UNITED RESERVES 2 ALDERHOLT RESERVES 2 aet
Bisterne United Reserves won 9-8 on penalties
Alderholt Reserves were seconds from lifting the M. A. HART PAGE CROFT CUP but Bisterne United Reserves grabbed a dramatic equaliser deep into stoppage time and eventually emerged winners 9-8 on penalties in Thursday night's final at Hurn Bridge sponsored by Ray Millard Insurance Brokers.
Bisterne had the early chances but it was their Hayward Saturday Division Three rivals who took the lead against the run of play after 18 minutes. Bisterne defender Ben Tucker was pressured into passing back to his goalkeeper but the ball took a bobble as Russell Goodman went to kick it and ended up in the back of the net.
Alderholt's Dan Oakley was carried off on a stretcher after 25 minutes and taken to hospital with a suspected fractured leg following a challenge with United's Alec Moorman.
Jamie Wood doubled Alderholt's lead six minutes into the second half when he ran onto a through ball and steered it past the advancing Goodman.
The introduction of substitutes Charlie Heggan and Sam Hills tipped the balance of play in Bisterne's favour and they pulled one back on the hour with a Darren Mein penalty after Lascelles Richardson was brought down by Alderholt goalkeeper Jonny Cook.
Cook was relieved to see a long range effort from Richardson rebound from the post two minutes later and the Alderholt goal seemed to have a charmed life in the 77th minute when Bisterne were awarded another penalty after Dave Lock had been brought down and Mein's spot kick also struck the post.
Bisterne continued to press and, in the last minute of time added on, the Alderholt defence was breached with Nick Howes managing to force home an equaliser from close range.
Alderholt produced a promising move down the right eight minutes into extra time which resulted in a first time effort from Wood that Goodman did well to keep out.
Bisterne's Dave Lock had a header from a corner well saved by Cook in the second period of extra time and the Alderholt goalkeeper was then replaced two minutes from time by substitute goalkeeper Luke Davis for the penalty shoot out.
Alderholt almost snatched a winner in stoppage time but Graham Cash's header from a corner was cleared off line.
At 2-2 after extra time, the game was decided on penalties in a nail biting shoot out which even involved the respective goalkeepers successfully slotting one past their opposite number. The deadlock was finally broken with each team having taken twelve spot kicks when Dave Lock made it 9-8 in Bisterne's favour.
Bisterne United's Charlie Heggan was chosen for the Man of the Match award by BFA President Mike Fowler.
Bisterne United Reserves :- Russell Goodman, Dave Lock, Jordan Deo, Ben Tucker (Charlie Heggan 48 mins), Alec Moorman, Benn Kitchiner, Sean Thomas (Sam Hills 48 mins), Lascelles Richardson (Ben Daniels 86 mins), Darren Mein, Nick Howes, Sam Yeats.
Alderholt Reserves :- Jonny Cook (Luke Davis 118 mins), Bradley Vellenoweth, Sam Bates, Darren Gale, Rob Gilbert (Graham Cash 85 mins), Simon Dorrington, Alistair Barter, Dan Oakley (Jamie Pain 25 mins), Jason Thorne, Jamie Wood, Tom Cranmer.
CLICK HERE FOR STEVE HARRIS' MORE PHOTOS OF THE M. A. HART PAGE CROFT FINAL 2015
CLICK LINK BELOW FOR VIDEO HIGHLIGHTS FROM SOUTH COAST JOURNALISM